Applicant Tracking System
SmartRecruiters is the Talent Acquisition Suite for companies of all sizes
Applicant Tracking System (ATS) and Talent Acquisition Suite
Finding and hiring talented candidates can be frustrating if you're consistently losing promising candidates to the competition.
The cost of not being able to acquire a top performer? Incalculable.
But how can you compete more effectively in finding quality candidates, collaborating with your team to evaluate your choices, and then quickly close offers? It takes a new generation of technology to improve upon the traditional applicant tracking system and turn complex and tedious manual tasks into streamlined collaborative efficiency.
That's exactly how we designed SmartRecruiters, to deliver all the tools you need to:
Impress candidates
High quality candidates expect to work for high-quality organizations. They'll research you on Glassdoor, expect to easily apply via mobile, and won't tolerate an outdated or superficial experience SmartRecruiters delivers easy-to-use tools to present your organization at its best.
Engage hiring managers
Chasing down hiring managers to simply get feedback bogs down progress. Now hiring managers can provide feedback in a structured process that makes in easier to make much better hiring decisions.
Put an end to tedious and confusing processes
Stop relying on spreadsheets, Post-Its, emails, attachments, and other outdated technologies. This one advanced platform integrates the tools you need to more efficiently schedule interviews, evaluate candidates, and roll out offers.
Improve recruiter productivity
Now you can post jobs across multiple sources, order assessments, verify references, and more – all with just one click.
Replacing your Applicant Tracking System
Are you looking to replace an existing ATS? Many customers move to SmartRecruiters after their legacy applicant tracking systems and HCM Suites fail to support their hiring goals. Learn more about why you should consider replacing your ATS.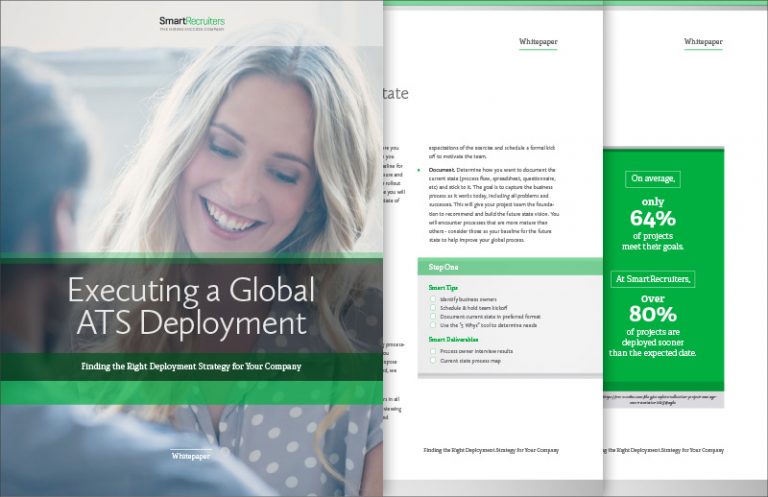 Global ATS Deployment Guide
It is very important to select an applicant tracking system that can support global processes in a flexible way, but is also critical to approach the global deployment in the right way.
Learn how other companies have deployed their global ATS.